e-Learning user guide
Step 1 – Confirm your investment
Complete the course registration form
Select your payment options
Once we have received confirmation of your investment we will provide you with a personal Login and you are ready to go!
Step 2 – Accessing the e-Learning portal
The web address of our e-Learning portal is:
Click on the link above. Bookmark the address, add it to your Favourites – you are going to need it again!
You will now see the following screen

Step 3 – Login
In the top righthand corner of the above screen you will see the word "(Login)."
Single click on the word "Login."
You will then be presented with a login screen as below.
Ensure that Cookies are enabled in your browser.
Type in the login details that we have provided you with. It is important to make sure that you use the exact login. The login is case sensitive so use upper and lower case where we have done so in our email to you.

Step 4 – Access your training course
Upon successful login you will again be at the home screen. This time it will say "You are logged in as ……….(Logout)" in the top righthand corner of the screen.
Scroll down until you see the name of your course.
Click on the course name and it will take you to your course.
Example from our NLP Practitioner Course below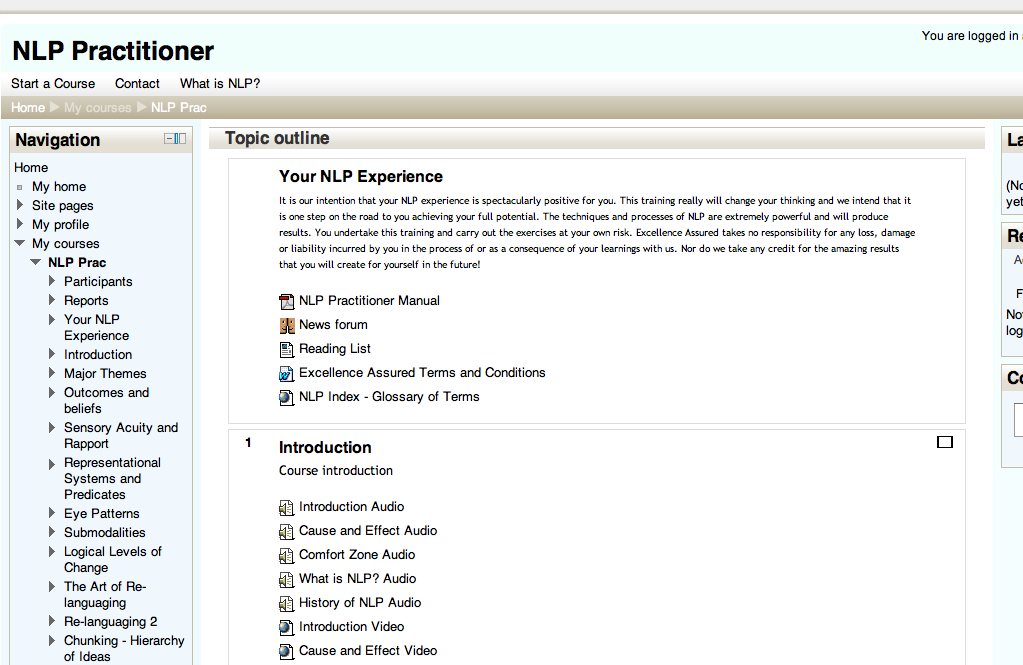 Step 5 – Start Learning
On the screen you will see all of the course topics listed in topic order. The topics that you have paid for will be immediately accessible to you.
In each topic you will see documents, video, audio, slide links. This is your course material.
I recommend that you start at the top, click on the course manual and print it off. Please read our Terms and Conditions if you haven't already done so.
Move onto topic 1 and gradually work your way through the material.  The course is designed for you to study the topics in numerical order.
Watch the videos, listen to the audio as many times as you wish.  If you have chosen to certificate with us then when you believe that you are ready please email us to let us know, we will review your learning with you at this time.
If you have any queries at any time, please do not hesitate to contact us.
Enjoy your e-Learning with Excellence Assured