NLP Training and Coaching Courses at our Academy
World class NLP training & free online resources
Accredited NLP courses with internationally recognised qualifications
Simply the best – NLP Academy at Excellence Assured
International NLP Certification Courses throughout the UK and online
Welcome to Excellence Assured NLP Academy
Having conducted international NLP  courses for many years now,  we have trained many thousands of people from every corner of the world, from every possible working background and we know how valuable the skills of NLP can be.
Professional NLP Certification Training comes in three stages, NLP Practitioner, NLP Master Practitioner, and NLP Trainers Training. We have courses at each of these levels.
As a top international NLP school (since 2010) we have it all covered for you.  We have Free NLP Resources, online NLP courses, 121 NLP coaching & mentoring, group classroom study – We offer  training to suit you, your budget, your preferred learning style, the time that you have available and your location.
We welcome UK based students and international students to all of our NLP courses.
Accredited NLP courses. Our courses are accredited by NLPEA (NLP Association of Excellence) and ACCPH (Accredited Counsellors, Coaches, Psychotherapists & Hypnotherapists).
Learn NLP & Coaching at the highest standard
Learn from one of the world's leading NLP Master Trainers
Become an NLP Practitioner, Master Practitioner, NLP Trainer & NLP Master Trainer
Use NLP in business, education, and your therapy practice
Use NLP to become a coach
Study NLP for personal or professional development
NLP has been described as the art and science of excellence, it is personal development at its best. Get your life the way that you want it and help others using NLP.
I was surprised how valuable the tools of NLP are and how they can be applied on a daily basis.

I find I now approach tasks which I tended to put off in the past in a positive mindset. As a result of the course I find my concentration has improved immensely, I am better organised and my results have improved.

My partner believes my studying NLP has been been good for me. It has been a great experience and all thanks to you!
World-class NLP Training Courses & Accreditation
We are accredited and you will be too.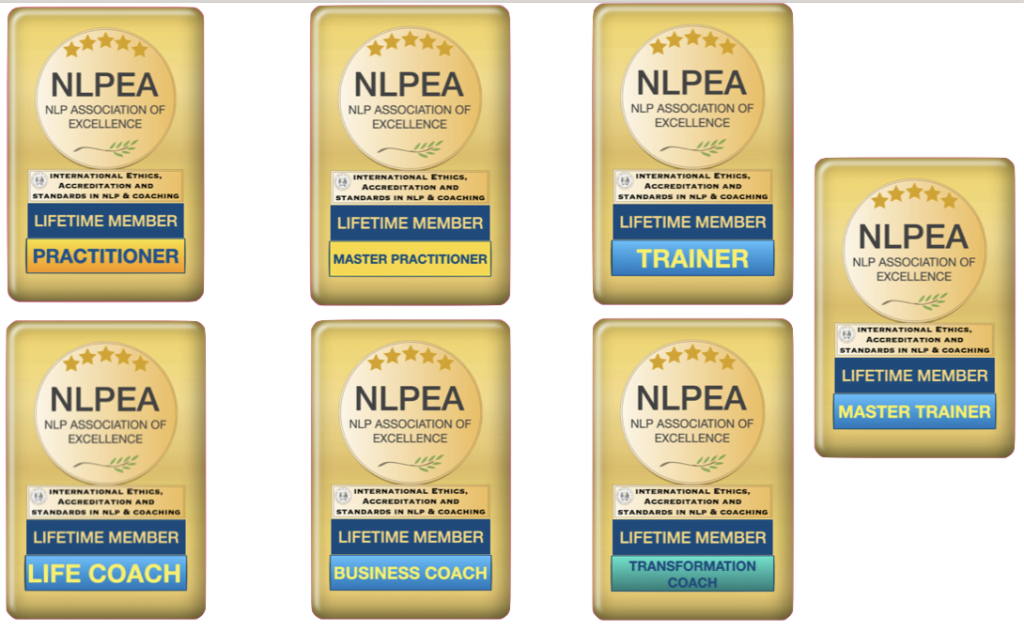 As one of the worlds leading educational centres for NLP our NLP Training Academy provides fully accredited training in NLP for all ages and standards. We have training via open courses in the UK and world-class NLP training courses online in our dedicated multimedia online training centre. We welcome UK based students and international students to all of our NLP courses.
Accredited NLP training courses
Learn NLP at the highest standard
Learn from one of the world's leading NLP Master Trainers
Become an NLP Practitioner, Master Practitioner and NLP Trainer
Use NLP in business, education and therapy
Use NLP to become a coach
Study NLP for personal or professional development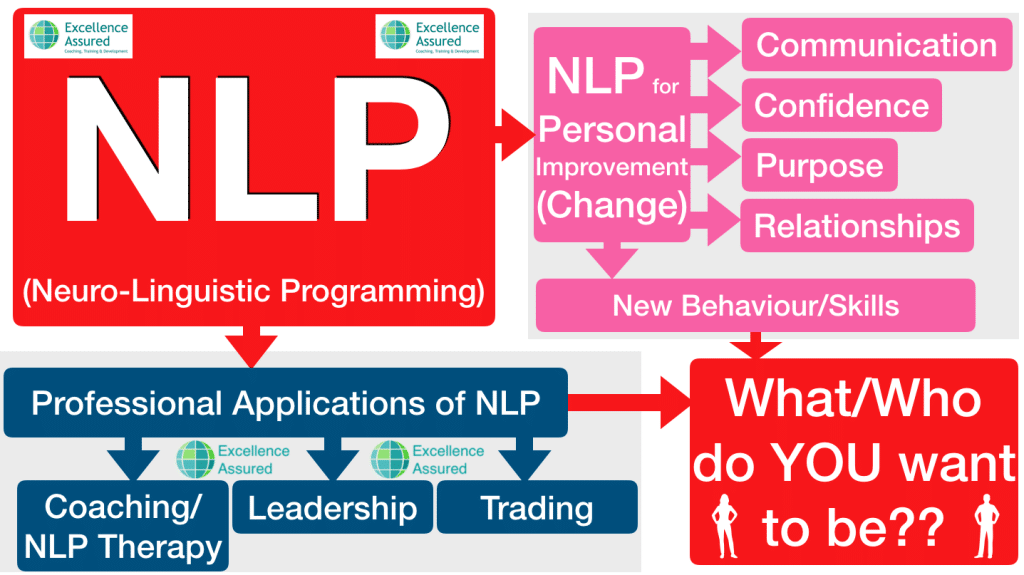 FREE NLP Resources on site here↓
In addition to our premium NLP courses we are also committed to providing quality Free NLP resources at the NLP Training Academy to help you learn NLP.
We have over 400 pages of NLP resources here on this website. Our resources are designed to complement the training courses that we run and also provide website visitors with a good insight into the wonderful world of NLP. The gateways to the resources are here →.

In the view of an experienced Therapist now using NLP
What are likely to be the most valuable things that you learn from our NLP training? NLP is really versatile and people use it for personal as well as professional purposes.
"The most valuable tools for me at this time are definitely timeline, anchoring and phobia techniques. Timeline has so many uses from dealing with past trauma, to putting goals into place into the future, and what I have discovered is that it really helps people to open up and talk, and things come out from the unconscious that has real realisations for people. I'll be looking at doing a lot of timeline and anchoring work with people in the future. One of the biggest impacts it had on me was using timeline in conjunction with the phobia work I did with two people at the same time, with two very different phobias. The results this produced in such a short space of time was simply amazing and I felt so pleased that I was able to help them, whilst boosting my own confidence at the same time." 
Welcome to your very own NLP training room
Our online courses are designed to replicate the live training events, so whichever mode of learning is your preference you can be assured of a quality and life enhancing experience.
Allow me to assist you in getting a feel for our NLP training. Indulge me with your thoughts for a moment, if you will:
You sit down comfortably in your chair, your favourite hot drink steaming away by the side of you. It all feels welcoming and familiar. You feel an air of excitement and anticipation, curious for your next instalment of learning from the wonderful world of NLP.
You reflect back on your previous session. You sense the mist lifting. Pieces of the jigsaw of life, of communication, of your complex thinking are slowly fitting into place for you. This is a wonderful feeling indeed.
Ideas for what will follow the training are flowing now. Creativity seeping through to your consciousness. The drip drip of productivity and has become a river of desire, your passion for the future shines brightly. The world of possibility beckons. You realise that the doors to your potential are wide open for you.
In your own time you begin again. Having set aside a distraction free period that suits your timetable you are free to concentrate fully on absorbing, digesting, gathering and ordering new pieces to the jigsaw. Moving through the learning process to knowing and onwards. Knowing is a powerful thing.  Comfort and clarity come from knowing.
One thing that you do know, that provides reassurance and is a pressure release valve in the learning process, is that everything is only covered in the same way once and from different perspectives several times. At the same time you are able to rewind and replay.
The mind has a tendency to…..wander….as it makes new and important connections.
"What was that point again?" Rewind, replay.
"Got it."
You miss nothing and learn everything.
It is a familiar format. The familiarity feels great. Each new subject presented in a way that answers the four types of questions that learners ask. Do you like to learn by asking:
"Why?"
"Why should I learn this particular aspect, subject or technique?" The answer provides the motivation to learn and to experiment. Experimentation is really important in learning and in NLP.
"What?"
"What is the history, the science behind this?" "What is it specifically?" "What is it related to that I already learned?" "What is the process that I use to do it?"
"How?"
"How do I do it?" You would like to see the process demonstrated, wouldn't you? You watch the demos, connections firing internally. Further clarity, greater knowing and certainty.  "How does it work?" Watch and see. Here is how you do it. Rewind? Replay? Ok. Now you are ready to try it out for yourself.
Either now or later, you have your instructions to complete the next exercise. Experimentation, playing. Life is a playground for learning. Your everyday life and environment is where you will apply your skills. Where better place to experiment and play?
Repetition is the mother of learning. Repeat your learning, repeat the exercises until you know that..you know how to do it.
"What if?"
Now that you know that you know and you have certainty, clarity and your new skill is second nature to you, just like…you know…that thing that you are really quite good at. Yes, that thing! Good. Now that is clear, do you have any questions? "What if you were to use it now?" "What if it could be used in this way or that?" You put your thoughts down on paper. Writing things down sends a message to your unconscious mind, you know. It says "Remember this, it is important." You press "Send". The satisfying sound of your email heading off in the direction of your ever eager course assistant and tutor signals the final part of this section of your course.
Time for a break? Ready for more learning? You choose. Options give a sense of control. You are in the driving seat. In fact this is true in many ways, isn't it?
Put yourself in control of your life, your potential and your destiny. Learn with our excellence assured. NLP training at Excellence Assured is presented by Master NLP Trainer Anthony Beardsell. Welcome to our training room.
Why train in NLP with Excellence Assured? You want the best, right? 
Studies have concluded that it is 10 x easier to do a jigsaw if you look at the picture on the box as you complete it. You will benefit from training designed and delivered with Accelerated Learning Techniques which will enable you not only to enjoy learning the subject matter, but also to start living it!
Train with our NLPEA certified NLP Master Trainer & INLPTA certified trainer, Anthony Beardsell who has over thirty years of NLP experience.
We offer a full range of NLP courses to ensure that you can take your development to the level that is right for you and with a company that you can trust.
Training delivered with a sense of fun, excitement and compassion.
We are experts in the field of personal development and can assist you in finding the right NLP solutions to your development needs.
Pre and post course mentoring service.
We are what we repeatedly do. Excellence, then, is not an act, but a habit – Aristotle
The good news is that you are not your habits! You can change old habits of self-defeating behaviour and replace them with new habits that empower you to design your life the way that you want it. Let us be your coach and mentor to excellence.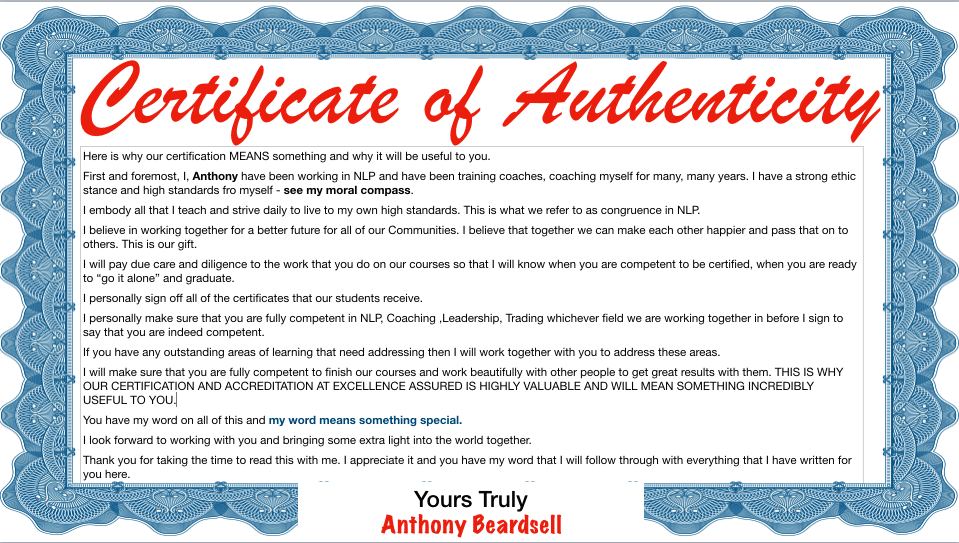 The benefits of training to be an NLP or Coaching professional
Earn a living doing what you love
Find your true place in life
Develop skills for life that will always be there for you
Help other people: Build meaningful and loving relationships
Learn skills & ways of thinking that will give you the power to deal smoothly with whatever life throws at you and COME OUT ON TOP!
Professional accreditation and certification to make your skills OFFICIAL!
Student Testimonials
Read what our students think about our NLP training Courses.
NLP Training – Only the best for you

I was so impressed to see how it works and since then there has been so many times this has worked. Including with my teenage son! Learning these new communication skills is proving to be so beneficial.

Scarlett C. UK
It was amazing and wonderful learning experience I had with you. I am grateful and thankful for your guidance and inspirational words given. You are really a good tutor, best trainer I ever had. Again thank you so much for your wonderful sessions.

Jaliya R. Asia
It was so nice to meet you and have a chat with you. I smiled the rest of the day, and so much my cheek bones were actually aching in the evening. And for the days following up to now, I find myself smiling effortlessly, more frequently and my mood is shifting. Years of not smiling isolated me from others, as I did not want to interact with them. I did not want any attention and people noticing my pain from the relationship I was in. Suddenly, the past few days, I've noticed people smiling back at me while going for walks, in the shop etc. I feel like I am coming out of my shell and seeing the light (just like you talked about).

Thank you so much for putting a smile on my face again!!! I do believe things will change in the months to come. I am not sure what it it is yet, but something is changing!

And thank you so much, for sharing your story with me. You are an amazing person Anthony, and your trainings have had a huge impact on my life. You motivate, influence and support others. Bless your wonderful soul and personality.

Cindy P. Florida. US
Sending over my last self reflection and thoroughly enjoyed the course and wished I'd put the same effort into my schoolwork ha ha. This is honestly the best course I've ever done and a bit upset I've finished it but I know it's just the beginning of a wonderful journey.

The way you put the course across was very interesting. I look forward to doing my masters and I'm now going to do my month of daily tasks as you recommend.

Dessie. London.UK