Look inside our online Mindfulness course
This online mindfulness course is based on our three step success formula: create awareness, leading to better choices and decisions, leading to change and better results.
Step 1 – Creating Awareness
The triune Brain
We start with a bit of background on how we create our thinking and we explain the three brain principle of the triune brain. You will understand how much of our behaviour is driven by fear and how we have an inbuilt fear mechanism that we have inherited from our ancestors.
The roles of the unconscious mind
The unconscious part of our mind is responsible for all our learning, behaviour and change. We teach you how to recognise your unconscious mind processes and understand how you can influence your thinking and behaviour to get better results: in this section you will be amazed at how simple it is to learn, amongst other things, how to make a lasting good impression on everyone you meet, how to improve your memory, how to create better health for yourself.
Our internal communications process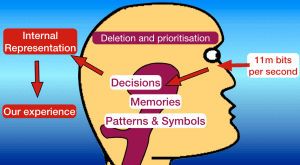 You will learn how your focus determines your results. How to alter your focus and get better results. We explain how you create your very own model of the world and how it may differ from other people's version of the world. You then learn how you can improve your relationships with other people through taking responsibility for your own thought processes and understanding your perceptions and projections,
Your power to change
We are all built with an incredibly flexible body and mind system. We explain the emerging science of neuroplasticity and you will learn how your mind is actually mouldable, like plastic throughout your lifetime. So whatever your age you can develop the skills, the brain and the life that you want.
Your inner Saboteur
One of the things that holds us back in life and in fact sometimes can make our life a misery is our inner sabotage mechanism. We like to personalise it and call it our Saboteur. Our saboteur doesn't like change, it doesn't like us to be too happy, and it causes us to live our lives in a comfort zone. You will get to know your own inner Saboteur so that you can recognise its influence on you and start to manage it better. This will help you along your road to creating a happier, better and more successful life.
Unwanted behaviour, addictions and our Saboteur
Learn how addictions and habits are created automatically by our Saboteur. You will recognise your own bad habits and learn how to be able to break free of any addictions, or unwanted behaviours.
Anxiety, stress and depression
Understand how to recognise anxiety, stress and depression in yourself and others. You will begin to learn how to start managing your thinking and your life to overcome these awful illnesses.
Step 2 – Beginning to shape your future
In this step you will learn how you will improve your choices in life and make better decisions.
Values and beliefs
We explain how your life is constructed around your deeply unconscious values and beliefs. You will learn a process for revealing your deepest values and changing them so that you can point your life in the direction that you want to go.
You will learn how to set goals, objectives and actions around your values so that you develop a life of purpose, fun, love and whatever is important to you.
We explain and guide you through a process used by superstars, elite performers and leaders that enables them to get what they want out of life. We show you how to use this process so that you too can get these benefits.
Learn to understand what motivates you and how to gain greater momentum towards getting what you want.
We teach you how to change your state of mind in an instant, so that you can become happier and get a better sense of well being. How to use positive memories to change your current frame of mind.
How to create powerful and positive automatic triggers for improved behaviour and results.
Step 3 – Mindfulness 
Through the videos on this online mindfulness course we coach you through a full programme of Mindfulness.  You can either do this section as an 8 week programme or do it at your own pace.
This section builds upon the awareness that we have created in the course so far and enables you to develop the art and skills of Mindfulness.
Learn how to get back your joie de Vivre, your curiosity, your peace and contentment. You will use these techniques to beat anxiety, stress and depression.
We share with you how to get back control over your wandering mind and so improve your level of happiness, well being and relaxation.
Anthony shares his experiences of using Mindfulness to beat his overthinking, stress and overworking. We also share experiences of other students on this course so that you can relate to how the techniques will work for you.
You will understand how to recognise the Doing and Being modes of thinking. You will learn to recognise your own autopilot behaviour and thinking so that you can start getting back control of your life and your thinking,
This section of the course is packed full of guided exercises for you to do so that you can experience mindfulness.
Highlighted mindfulness exercises:
Self Reflection exercise – reconnect with your breathing and your inner sensations
Expanded awareness – learn how to expand your awareness and use your peripheral vision.
Potato crisp exercise – recognise your autopilots
Chocolate exercise – develop your mindfulness through your eating experiences
Breath & body exercise – recognise mind wandering and start building skills in thought watching. This enables you to break the negative cycles of thinking involved with stress, anxiety and depression. We teach you how to reconnect with your inner resources through your breath.
Body scan exercise – use your breath to explore your body, your sensations. This teaches you how to recognise signs of stress in the body and how to develop deep relaxation.
Three minute breathing space exercise – an exercise that you can use any time of day to help you relax
Mindfulness in movement exercise – a very light movement and stretching exercise. Furthering your development in understanding your body and using mindfulness to relax and release stress.
Silence, sounds and thoughts exercise – helping you to recognise the involvement of your Saboteur in your thoughts. Using time honoured techniques to observe thoughts, deepen your understanding of how you are constructing your thinking, see your thoughts for what they are, mind constructs. This is how you will gain control over your thinking and put your happiness back in your own hands.
Exploring resistance and difficulties exercise – how to befriend your Saboteur. How to overcome difficulties in your life and create more empowering thought processes.
Compassion to self and others exercise – be nicer to yourself and others. Easier said than done sometimes. We will show you a foolproof system. This exercise shows you how you will build better relationships with others and build your own self worth.
Creating your future
More exciting exercises for you to do to create an empowering future. Learn how to discover your own personal timeline and how to use it to put a goal into your future. Suggestions for daily mindfulness practice. Learn how to integrate the powerful practices and benefits of mindfulness into your life so that you go on living your life the way that you want it.