Recently we discussed paying attention to the way in which we listen to other people.  Listening is one of those unconscious skills that we have.  When we are young we learn that we can hear what someone else is saying and immediately the skill of listening transfers from a conscious process, one that we are aware of, to an unconscious process, one that we take for granted and do not need to concentrate on.
The trouble with unconscious processes is that, as we learn in NLP, our brains distort, delete and generalise information all the time when we are moving it from our unconscious to the outside.  Over time, as we have taken the skill of listening for granted , we have begun to distort our ability to properly listen to someone.
Think about a conversation that you had recently.  Got one?  Good.  Ok, now specifically remember listening to what the other person was saying.   How much of your concentration was on what that person was saying and how much was on what was going on in your head at the time?
When we are young and as we get confident with our unconscious skill of listening we begin to realise that we can listen to what people are saying and have thoughts at the same time.   How cool is that?!
The trouble is that we get so confident over time that we get lazy about the listening part because that takes concentration, and the thinking takes over.   We also develop a personality, we form opinions, beliefs and we have values in life that influence our thinking.
What ends up happening is that as the other person is talking, they will say something that we have an opinion about, or  belief about, and our brain will start ticking over.  We will unconsciously start forming a counter argument, creating pictures, sounds and feelings about what they are saying and also about what we are thinking at the same time.  As we are listening we will be evaluating what they are saying to see if we agree with it or not…….
….and what is more we might also be thinking about stuff that is not even related to what the other person is talking about!!!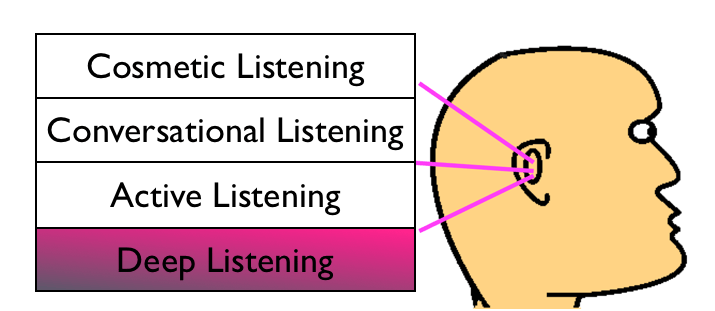 The fact is that the human brain is only capable of processing a limited amount of information at once, and it is impossible to be 100% effective in one area of behaviour (listening) if you are doing something else at the same time (lots of thinking).
In coaching, the whole idea is that the coaching programme is about developing magnificence in the person being coached (the coachee).  So, as the coach, if you are listening to them talk and you are forming opinions, thinking about a counter arguments,  thinking about what you are going to have for tea, how much idea are you really getting about what they are saying to you?
You may be able to hear what they are saying but you will not able to properly get a sense of what is behind what they are saying. In order to assist someone in developing themselves and achieving their goals through coaching you need to be able to process the information that they are giving you via their beliefs, their values and their opinions, not yours!
So, in order to be an effective coach you need to be able to shut down your internal chatter, and just listen to what the coachee is saying.  Really absorb what they are saying. One technique to enable you to do that is the NLP Learning State which is a technique that we teach in our NLP training series.
In order to develop your deep listening skills in a coaching conversation, you need to avoid the following:
Seeking to look good by asking clever questions, giving impressive facts, recalling times when you did something better and bigger!
Giving the other person ideas, suggestions or solutions to the subject that you are discussing.  Bear in mind that if you do, then they will be your solutions, not theirs!
Attempting to control the conversation in any way.
Referring to any of your own experiences or feelings.
The good news is that whatever unconscious habits that we have developed over the years, we can change simply by making them conscious for a while and improving them.
So, make an effort to listen to people, really make an effort this week.  It will make you a better coach and also improve your relationships!
If you are interested in training to be a coach, then we have online Coaching Certification Training Courses in our NLP online training centre.
We also provide coaching services to businesses and individuals throughout the UK. Drop me a line to discuss your requirements.  You can contact me via the contact form here, or email me: anthony@excellenceassured.com.
I look forward to hearing from you.