International Coaching Course – Online
Accredited Life coaching, business coaching, and executive coaching training
Train to be an NLP Master Coach and  life coach or business coach on this course.
This course is perfect for you if you:
Want to be a life coach
Would like to work as a business coach
Want to employ a 'coaching culture' in your organisation. Train key employees in the art of coaching
Are curious to learn NLP alongside coaching
Are already a coach and you want to get the benefit of some professional coaching qualifications behind you
Want to learn in your own time/space via a video based online and expertly tutored course
GET 10 internationally recognised and professional Coaching related qualifications from this course:
Certifed Life Coach or Certified Business Coach (your choice)
"NLPEA Transformation Coach"™
NLP Practitioner
NLP Coach
NLP Master Practitioner
NLP Master Coach
NLP Timelines Practitioner
Hypnosis Practitioner
NLP Timelines Master Practitioner
Master Hypnosis Practitioner
Upon Qualification you can use the Logos below to confirm your trusted Coaching accreditation and qualification from the NLPEA – The International Guild of NLP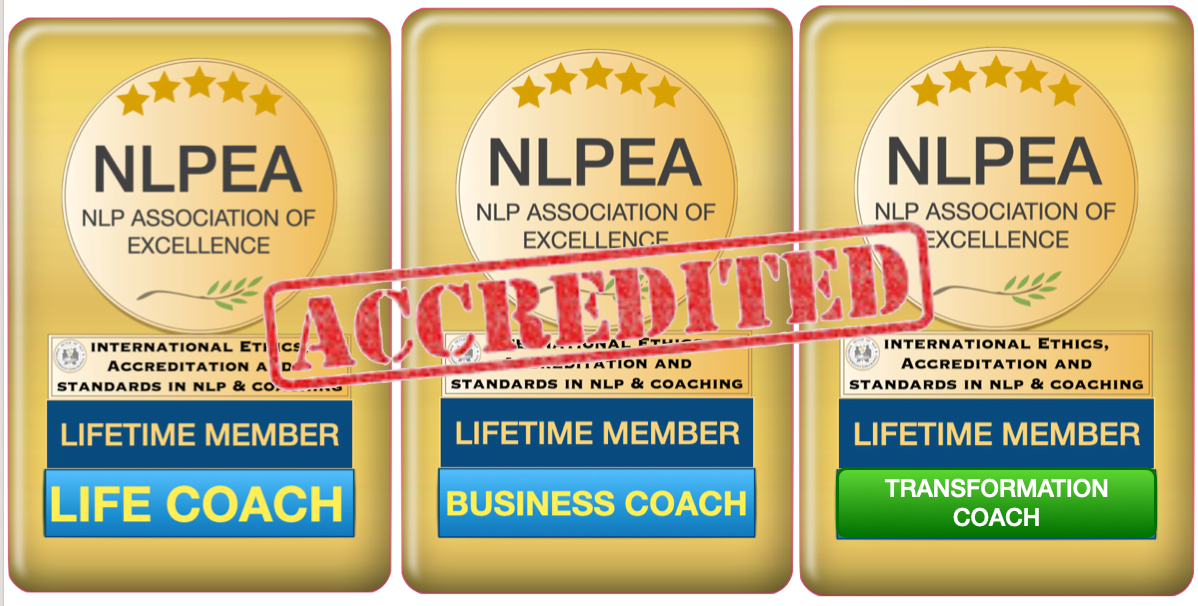 We always aim to exceed your expectations! Thank you to all of our students for their wonderful feedback. 
International Coaching Course

I truly enjoyed this course and I have to say it brought me more than expected. 

I assumed it would be great for my development but never imagined the impact it would have on my day to day life and how much it helped . 

Thank you 
Quitterie L. – US
Thank you for being such a wonderful trainer. It's been such a nice experience studying with you. You made complex material easy to understand.

It took me quite abit of time to complete but I always felt like I had somebody who was waiting for me to continue and complete my module. It felt like very personal one on one training.

I also feel like I was able to immerse myself very deeply into the subject and gained a very broad understanding both practically and intellectually about NLP. More than I thought would be possible for an online course.
Sarah S. – Belgium
"I have enjoyed this course beyond words and the results are so powerful! I have discovered so much satisfaction through doing it and your care and support has been excellent. "
Dr Tabbias R
"Having spent 20 years working in a coaching environment I wondered if this old dog could learn some new tricks. This course has transformed my approach and I believe that my coaching business can now go from strength to strength, hopefully for another 20 years! "
Geoff S
"This course far exceeded my expectations. I really enjoyed it and I am finding really useful for my coaching practice."
Matthew G
"I am so happy and thrilled to have completed this training. And yet my journey has been so fun and full of new learnings, I don´t want it to end."
Eugenie T
Read more testimonials below and in our free course brochure (fill out the form below)
Learn the skills you need to be a top coach with this Coaching Training online course: 
Train online to be a coach with Excellence Assured and Anthony Beardsell (NLP Master Trainer & Coach).
This is a 2 part Coaching Training programme which will provide you with up to 260 hours of 'Coach Specific Training' as required for membership of the ICF (International Coach Federation).
In addition to your chosen coaching qualification this NLP based training series will also give you the qualifications of Certified NLP Practitioner and Certified NLP Master Practitioner, which are highly sought after and valued in the coaching environment.
Train in the comfort of your own environment and at a pace that suits you. You will be provided with your unique login to our dedicated e-training portal.
Structured Coaching Training programme via our dedicated online Learning Management System (LMS).
The training programme has over 30 hours of instructional videos (200+ individual videos), separate MP3 audio, comprehensive course manuals viewable and downloadable your members area.
Online support provided.
You can start training today!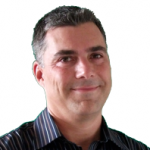 "Feel free to ask me any questions that you may have in advance of taking the course or request a FREE brochure about this course by completing the form below."
Anthony Beardsell – Trainer and Coach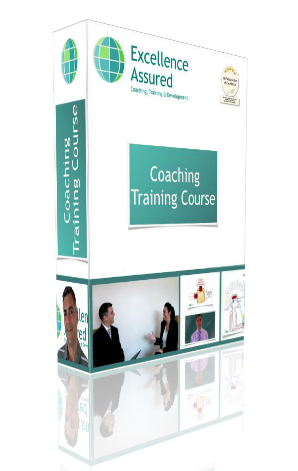 Your choice of coaching qualification
Qualify as a Certified Life Coach or Certified Business Coach.
Add either of the following qualifications to your course: Certified Life Coach/Certified Business Coach.
This Coaching training course provides as standard the qualifications of NLP Practitioner, NLP Coach, NLP Master Practitioner, NLP Master Coach.
If you aim to work in the area of life coaching or business coaching, then would it be valuable to you to be able to call yourself a certified life coach, or certified business coach? Yes? This is exactly what we are offering on this course.
We offer you the opportunity to gain a further specific coaching qualification from your course, a badge that demonstrates validation of your skills in your specific area of expertise.
If you are new to coaching then we know that you may not yet have decided which area of coaching you would like to specialise in. We are sure that as you progress through this training you will make this decision as it becomes clear to you. As you take the course you can tell us at outset or at any stage of your training which specific qualification you would prefer to gain (Certified Life Coach/Certified Business Coach), we will then provide you with specific details of our requirements for you for certification.
There is no additional fee for this certification, it is all included within your initial coaching training investment.
Coaching Training Online Course Content:
Key skills for you:
Coaching principles and beliefs
How to master your own thinking and coach by example
Building rapport and relationships
Master your communication skills
Learn how to communicate unconsciously for maximum impact
Asking questions
Establishing your own emotional maturity
Techniques to enable clients to overcome phobias, conquer negative emotions, master their own communication, set and achieve goals….. and much more….
Qualifications in Coaching and NLP. NLP is a must have in terms of results for coaches and this course will enable you to be a Master Practitioner of NLP and NLP Master Coach.
How to create your own coaching practice and gain clients. Selling yourself and your coaching business.
Key skills for your coaching. The course content is in line with the published ICF core coaching competencies and you will learn:
How to coach ethically and meet your professional standards
Establishing a coaching agreement – having a plan
Establishing a relationship of trust
How to create your own coaching presence
Active listening skills
Powerful and purposeful questioning skills
How to use and adapt your language to assist the coachee in gaining the best results for them
To assist the client in building their self awareness
How to design and build outcomes and goals.
How to implement an appropriate action plan
Managing accountability and progress within the coaching relationship
Here is an example video for you. This is a "Values Elicitation" in the context of Work. This is stage one of a three stage process.
The course material is equally suitable for life coaching, relationship coaching, business coaching, executive coaching, performance coaching.
Excellence Assured are a leading provider of coaching training for aspiring coaches, managers, trainers, psychologists, health and HR professionals worldwide.  Anthony Beardsell invites you to let him be your personal trainer and coach for the duration of the training programme. Anthony is an NLP Master Trainer and Master Practitioner, member of International Coaching Federation (ICF) and he has 20+ years of coaching experience to share with you.
Requirements for certification
We will judge your progress through this course via a series of self reflection exercises.
Throughout the course we ask students to reflect on their learning and on the exercises that we ask you to do, you note these reflections down in writing and submit them as reports to your course tutors. The tutoring is free. We ask specific questions in order to assist our students with the integration of their learning and you answer these questions. Our tutors review the assessments and provide feedback. Where necessary they may ask further questions or set tasks for you to complete and then report back on. This method allows us to judge the progress of learning and also the end competence of our students.
This Coaching Training will provide you with internationally recognised coaching qualifications and train you to be a successful coach!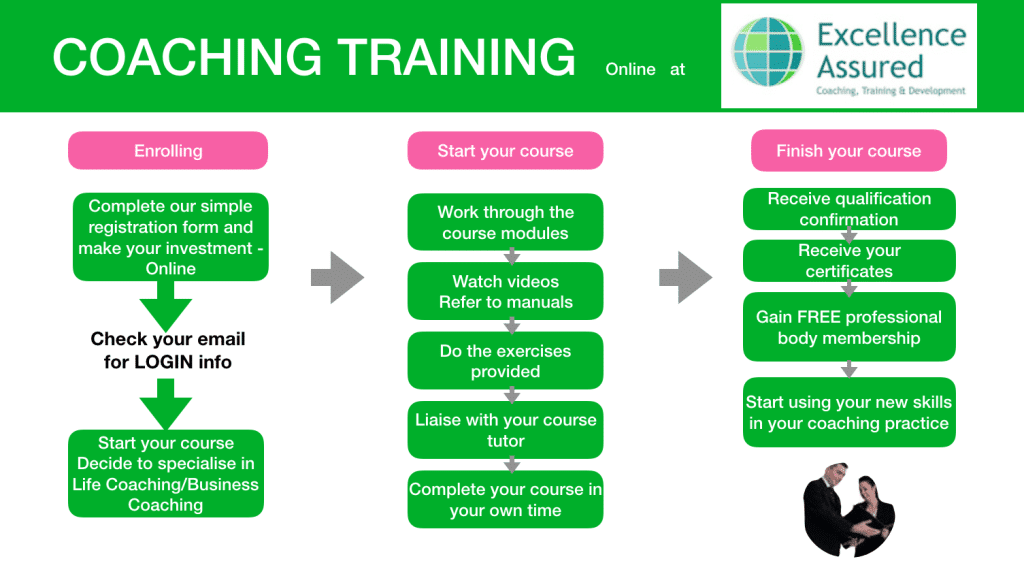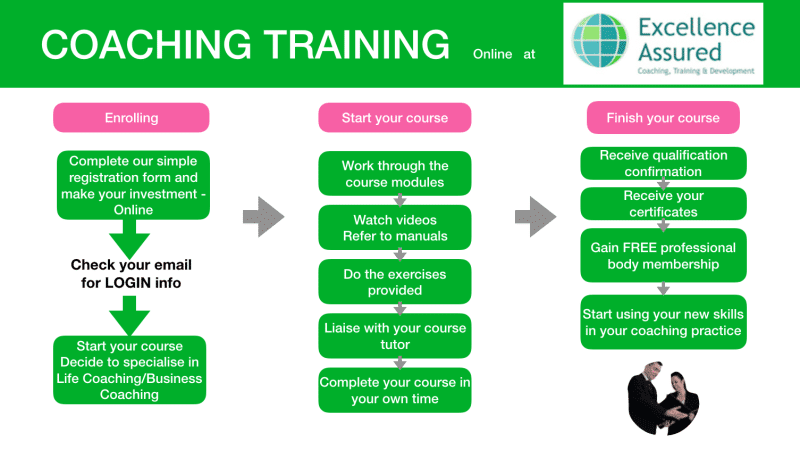 You can study from home and take the course now. This is a one time investment to include your certification – take the course now for an incredible low price of £4620. Now discounted to £949!
*** This course also qualifies for our current promotion to include FREE access to our Mind Management & Mindfulness Course – we think that you will love the combination :)
To take the course click on "Add to basket" and proceed to checkout and registration.