Kevin and John awoke to a beautiful blue sky, crisp and cool, they would have perfect playing conditions. Both felt a sense of excitement as they thought about the big match to come. Today was the day that the title would be decided. Nothing had been able to separate the top two teams in the division all season, they were both ten points clear of the pack with just the title decider to play today.
In fact nothing had been able to separate Kevin and John as the top scorers in the league either, both had 17 goals from the previous 17 games. Kevin and John were 11 years old and lived only a few miles apart. Both had fathers who loved football and who had encouraged their sons to kick a ball as soon as they had been able to walk. Both desperately wanted to become professional footballers when they grew up.
As Kevin contemplated the day ahead, his excitement became mixed with a sense of nervousness and apprehension, it was such a big day, his whole family would be there to support him, he hoped that he didn't let them down.
John had no such worries, his family would be there to supp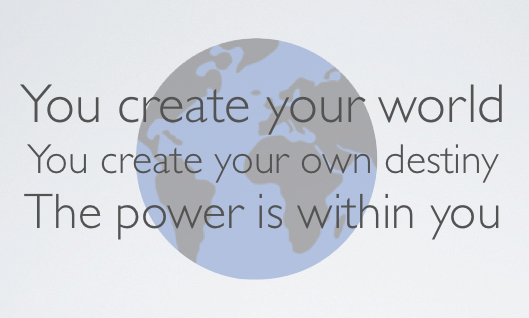 ort him too, this just added to the excitement, he visualised scoring the winning goal and being surrounded by his fellow players, being hoisted above their heads with family and other supporters cheering them on.
As the big game approached so Kevin's anxiety increased, John just felt a rising sense that it would be a great day.
Kevin's first touch of the ball was a poor one, he was so nervous, so keen not to make a mistake, not to let people down.   John was feeling full of confidence, he played a few simple passes to his teammates, this just settled his nerves, he was looking forward to his first shooting opportunity.
The first real goal scoring opportunity fell to Kevin, for some reason he knew that he was going to miss, his touch deserted him and he missed. John had no goal scoring chances in the first half but he played solidly, some nice touches.
Kevin's anxiety was matched by his coaches and the team talk at half time was frantic, his coach told them that they knew that they could play better than this, "Don't let me down." He said.
John felt that he had played ok in the first half, his coach told them to just stay focussed and wait for their opportunity, it would come…
And it did come, ten minutes into the second half. John took aim and fired. The ball sailed into the net. 1-0.
It was a rather one sided affair after that. Kevin missed several half chances, he was just not feeling himself today. John's confidence grew and he scored two more goals, a hat-trick!
After the final whistle John was lifted into the air by his team mates, he was a hero, they had won the title. Kevin was subdued. He couldn't wait to get home.
During the summer John never had a football far away from his feet. He relived his goals many times over. He couldn't wait for the new season. Kevin didn't touch a football all summer, he was far more interested in going fishing with his Dad. He was "good at fishing" apparently.
John went on to become a premier league footballer, people always said how "talented he was." Kevin gave up competitive football the next season, he just lost interest in the game for some reason.
And so the footballing destiny of Kevin and John was decided.