Anthony Beardsell provides training & coaching solutions for businesses & corporates
Contact Anthony about his leadership, business and executive coaching services using the contact form on this page>>>
In addition to coaching, Anthony is available to provide the following Leadership based training services:
All of our training courses are available in e-Learning format. You can take a course off the shelf or we can design one to suit your needs. We have 1000+ video modules of fascinating material at your disposal. Contact us today to discuss your requirements: 0114 2360047.
Coaching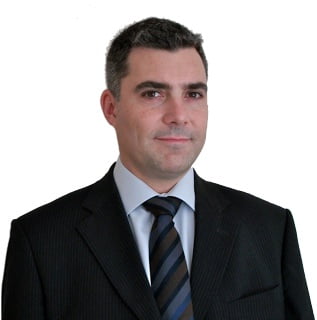 We provide Leadership and Executive Coaching services to assist in improving work/life balance, transition to directorship/senior management, managing change, achieve specific key objectives, board level conflicts, values alignment and strategic interventions. More on Coaching>>>
 Leadership Training Courses

Creating excellence in yourself and in others. If you can understand how people think then you can lead and motivate them. This course provides you with a deep understanding of what makes us tick. How we each think differently and at the same time similarly, our personality types and how to communicate with other and motivate them. For new and established leaders, managers and management teams. More on Leadership>>>
NLP Training

NLP Business Practitioner Training. All the key skills and techniques of NLP boxed in a training course that is perfect for businesses.  Communication Skills, People Skills, Coaching, and Management Skills. No jargon, just processes and techniques of excellence that you can use to take your people and business to the next level. More on NLP>>>
Outplacement Services

We provide Outplacement Coaching Services, Training Services and e-Learning. Inspiring happiness and growth through personal and professional development we assist in helping groups and individuals achieve their true potential. Setting new objectives, empowering new challenges and shining a light on your future. More on Outplacement Services >>>
Sales Training Courses

We present to you a simple 5 Step Sales Process that will significantly boost your sales performance. Bespoke training to suit your needs. Improve your conversion ratio, your prospecting, your closing skills and your telephone sals skills. We train in skills that have worked for us and they will work for you too!Customer Services Training, Sales Process Training. More on Sales Training>>>
Communication Skills Training course

NLP is "Communication" Skills. NLP is the art and science of personal excellence and the techniques and skills in this body of learning have been modelled from expert communicators over many years. Learn how to use these techniques and become an expert communicator. In-house Communication Skills Training. More on Communication Skills Training>>>
Customer Services Training

Customer Services Training Courses. Specialising in Customer Services Training for NHS staff, the retail sector, Education sector, hotelier staff.  Professional, fun and effective training to take your organisation to the next level. More on Customer Services Training>>>
We are a specialist training and coaching provider and we would be happy to model our training around your business needs. If you do not see an off-the-shelf course that meets your needs then please call us on 0114 2360047 to discuss your requirements.
Our training process
We will deliver your training with energy, enthusiasm and a sense of fun. Our aim is to give you value for your investment in terms of getting lasting results in the delegates.
We recognise that different people have different levels of knowledge, skills and speed of learning. Our training courses are designed to suit all four preferred leaning styles in order to deliver a quality experience to all.
In simple terms it is recognised that in the process of learning, at any one time delegates are asking four different questions in terms of the learning process:
  Why? These learners want to know the reason for learning.
  What? These learners want to get the facts and concepts.
  How? These learners want to practise and do something.
  What if? These learners want to try out variations.
We use the Four Mat Training system as illustrated below. We start by answering 'Why?' questions in box 1 through an interactive process of discussion.  Moving through box 2, we answer 'What?' questions by providing information on the subject.  On to box 3, which is where we will normally carry out some exercises and coach the delegates in their new skills.  We end in box 4: the delegate has tried out the new skills and we will attempt to answer any 'what if?' questions that result from the exercises.
Can you design a course specifically to suit the needs of my organisation?
Yes. All of our course material is flexible, what matters most to us is that you see a lasting difference.
Where are the courses held?
In house training – at a venue to suit you and your delegates.
Online Training – on any computer or internet device.
What do I do if I need any more information?
We will be pleased to answer any queries that you may have. Please contact us by calling us on 0114 2360047.
How much does it cost?
For details of our fees please go to Our Fees or have a look though our online training menu of courses
Simple four stage training process – NLP 4-Mat system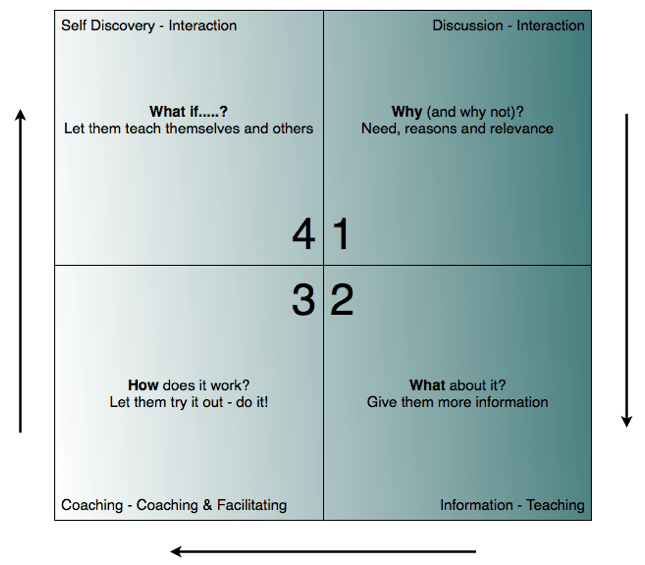 How useful was this post? Have your say
New - Click on a star to rate it!
Average rating / 5. Vote count:
No votes so far! Be the first to rate this post.