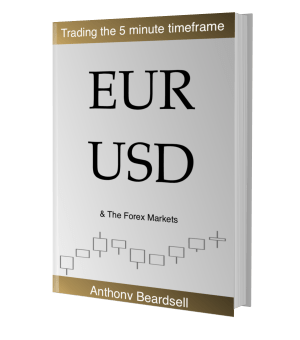 Learn how to trade forex markets with Anthony Beardsell in his new Ebook – EUR/USD and the Forex Markets – Trading the 5 minute timeframe.
In this 162 page book, Anthony provides a system to use in trading forex on the 5 minute timeframe. The system focusses on reading price action, via trading candlesticks.
In addition to a complete system for day trading forex markets this book will show you how to grow a small account from £10k to £500k over one year using compounding and taking only two trades per day.
The book reviews a six week period on the EUR/USD forex market approaching the end of 2017. During this period we assess the daily price action and review the trading opportunities presented.
Learn to Trade Forex
There are huge numbers of transactions taking place continuously in forex markets. Like stock markets, these markets operate in accordance with the dynamics created by supply and demand. These dynamics produce repeated patterns in prices. It is through getting to know these patterns and taking advantage of the repetition that occurs that home based independent traders can make their money.
In order to trade profitably a trader needs a system.
There are five main components that a trader will need to incorporate into their trading system.
Context – What is the overall picture in the market? Where is price now in relation to previous prices?
Content- What do the price candlesticks tell us about where prices are likely to go next?
Confluence – Do other indicators say the same thing?
Risk management – Are we able to take a trade with lower risk than potential reward?
Money management – What amount of money should we risk on each trade?
Each of these areas are discussed and questions answered in the book.
Trading on the 5 minute timeframe – day trading
For simplicity the book focusses on just one timeframe (the 5 minute timeframe) and two particular trade types. Trading on the 5 minute timeframe is day trading. Therefore you will learn how to implement a system for day trading the forex markets using a two trade system. We do assume a basic knowledge of forex and trading so that we are able to concentrate on the system itself.
These type of trades may or may not suit you and your personality. The book is designed to illustrate how it is possible to make a living and become profitable as a trader using just one system. However if you wish to learn to trade and gain a full education in trading different markets then please do consider our Forex or Day trading training courses.
On our courses Anthony will teach you lots of different systems like this one and work with you to help you implement a system that suits you specifically.
How to trade Forex – Get this book for FREE
Please complete the short form below. Upon submission of the form we will email you with a link to the book. You can download it to your computer or read it online.