The US Masters golf tournament often produces plenty of excitement in the closing holes. The 2016 Masters was no exception. Danny Willet came from three strokes behind at the beginning of the final round to win by three from Lee Westwood and Jordan Spieth. This was a great story for Danny, who became only the second English winner of the prestigious tournament.
My delight at Danny Willet winning (he comes from my home town of Sheffield) was tempered by empathy for Jordan Spieth who lead the tournament all the way from halfway through the first round until the 12th hole of the last round before passing over the lead to Willet.
The events that unfurled in the closing stages of the last round provide some excellent examples of  the role that psychology plays in sport.
At the very top level sport is all about psychology. The margins between wining and losing are so fine that often one single thought can determine a positive or negative outcome for those involved. Golf is one sport where participants have time to think (the ball doesn't move until the golfer moves it) and therefore psychology plays an even greater part than in other sports where there is very little time to think between actions.
Masters 2016 – Final Round
Danny Willet made sublime progress in his final round. He played almost faultless golf under the ultimate pressure on one of the trickiest courses in golf. His final round of five under par was the joint best of any golfer on the day. Leaving him as the deserved winner. 
Jordan Spieth's final round of the Masters, the first of four annual major golf tournaments, unfortunately tells a different story. Spieth was winner of the Masters in 2015, leading right the way through the tournament. He also went on to win another of the years major tournaments, the US Open, and came close in the other two. He has pedigree. There is no doubt that he is "the real deal" as pundits like to label repeat sporting winners. 
Beginning his final round, Spieth had a slim one stroke lead over the field, it could have been bigger. He dropped three shots in the last two holes of his third round to finish at three under par for the competition, giving some hope to his trailing competitors. His form over the season to date had been mixed. He won his first tournament of the year but since then his performances had not been to his usual exceptional standards. 
He hadn't played perfectly over the first three days of the Masters when windy conditions and super slick greens had induced more mistakes from his competitors than they had from him. By all accounts he had flown his swing coach out to help him after some errant shots in the first two rounds. This may give the first clue as to all that was going on inside his head.
Who knows how he was feeling about his game standing on the first tee of the final round but to all outer appearances he had things very much under control and in his grasp. 
He birdied the second hole to extend his lead. Everything under control. He bogeyed the fifth hole. Were cracks appearing in his game? He answered this question emphatically. No. He birdied the next four holes on the trot. At this stage he had a five stroke lead. I would normally have gone to bed (it was late evening in the UK) assuming that Spieth would go on to win. However, this is The Masters and "everyone knows what can happen in the last nine holes of the Masters". This phrase has been repeated year after year by commentators on TV. 
The back nine at Augusta
The final nine holes of the Augusta National course, which hosts the annual Masters tournament is populated by lakes, narrow treelined fairways and lots of bunkers. There is danger and opportunity in abundance and this often produces huge swings in scoring throughout the event. Add in the pressure of the final round and the pot of gold at the end and you have the perfect recipe for scoring collapses and unforeseen triumphs. 
Willet in the meantime, playing several holes ahead of Spieth has been continuing his sublime progress, avoiding dropped shots and picking up birdies along the way. He was just "focussed on hitting good shots".  He couldn't do anything about what would happen with Spieth. After 12 holes he was at -2. He said he was thinking "my target is -7". He looked at the scoreboard and saw that Spieth was already at that score. This reveals that in his mind at this stage his likelihood of winning was very slim. This proved a very useful mindset for him:
The pressure was off him. He was one of several players trailing Spieth. In fact he didn't say this but he was probably more focussed on beating his playing partner and compatriot Lee Westwood  (who was around the same score as him) than catching Spieth. 

There was no weight of expectation from outside, people didn't expect him to win. Nor internal expectation, he didn't expect Spieth to falter. 

He could remain focussed on hitting the ball as close as possible to his target and holing his putts. No change from exactly what he had been doing all week. 
Contrast this with the mental conditions that Spieth had to contend with.  He was leading by five strokes. He had everything to lose. Everyone including himself expected him to win. The pressure was on. 
Often the pressure of a big lead can be more challenging to deal with than a narrow lead, where the player remains in the heat of the battle. It allows time and room for reflection. Thoughts of what might be can creep in. Potentially disastrous thoughts. 
Spieth drops a shot on hole 10, and another on hole 11. These are two of the trickiest holes on the course so no major drama. He still has a lead. However the pressure and weight of expectation is now even greater. The possibility of being caught by his competitors must have entered his mind. The more things that we have on our mind the less we are concentrating on the job at hand. This affects focus and attention to detail. The mind is a wonderful tool and it also has a limited capacity for processing information at any one time. When thoughts become congested, confusion abounds. 
He stands on the 12th tee. Ahead of him is a par thee hole with water in front of the narrow green and bunkers behind. 
12th hole – "We have history you and I" 
Two years previously he was in contention to win at this stage of the Masters and he hit it into the water in front of and just right of the green. He failed to win that year partly as a result of that shot.  This part of the course is quite intimate, in a small basin, the crowd surround the hole in amphitheatre style. There is no hiding place for the players. They are in bright lights and on centre stage. 
Spieth reflects on what happens next by saying "I didn't focus properly. I just hit the shot."  This specifically reveals that his mind was cluttered at this stage. He didn't follow his normal pre-shot routine, he was overloaded with thoughts.  When this happens in golf, under pressure we can either take a step back and refocus, or we shut our eyes, "just hit the shot" and hope for the best.
After he hit it you could hear him say "I bailed on it" – implying that he hit it right and didn't follow through on his shot properly. Tense muscles can lead to a players body seizing up slightly and this can lead to them not following through properly. 
The ball followed the exact same path as two years previously and went into the water in front of and just right of the green. 
You could then hear Spieth asking his caddie "where do we go now?" Under normal circumstances he would know exactly what to do next, where to go and what shot to hit. It isn't like he hadn't been in this situation before. The mist had obviously descended on his thoughts. His mind was in overload. Confusion reigned. 
Credit to Spieth, he represents the game of golf very well as one of the elite players and he never makes excuses. He wasn't mentally ready to hit that shot off the tee. He really needed to take some time out and collect his thoughts. However, he and his playing partner had been reprimanded by the tournament officials earlier about slow play (in a previous round you could just catch him muttering frustratedly under his breath about it) and I am sure that this was reason why he felt that he just had to try to shut off all thoughts and get on with hitting his shot. 
As he had hit his ball into the water he had to take his next shot from the same side of the water and cross it again with his ball to the green. He stood over his ball, took his swing,  and hit the ground before the ball. A huge piece of earth flew up from under the ball and the ball rose meekly into the air and dived into the front of the water hazard. It was a shot that all amateurs can empathise with and not one that you see very often from a professional let alone one of the worlds greatest golfers. Yuk. I felt for him. 
Inevitably he hit his next shot over the water, over the green and into the bunker behind. He eventually finished the hole, scoring a seven and dropping four shots. 
In sport they call this "choking". It happens all the time under severe pressure, sports people "choke". Their bodies do not respond normally and in the way that they have been conditioned by practice and they preform way below their usual standard. It can happen to anyone, they don't do it deliberately and once triggered it can happen time and again unless action is taken to prevent it (explained later). It happened under less intense pressure to Ernie Els earlier in the same tournament when he six putted the first green – these greens there are tricky but not that tricky.
Playing this 12th hole and for this briefest period of time Spieth reverted to the level of an amateur golfer. All of the hours of practice, grinding out shot after shot on the practice range, were of no use at all to him. Given the perfect combination of factors, the perfect storm, this is what can happen under pressure in top level sport. It happens time and again in competitive sports events and is described in Matthew Syed's book Bounce.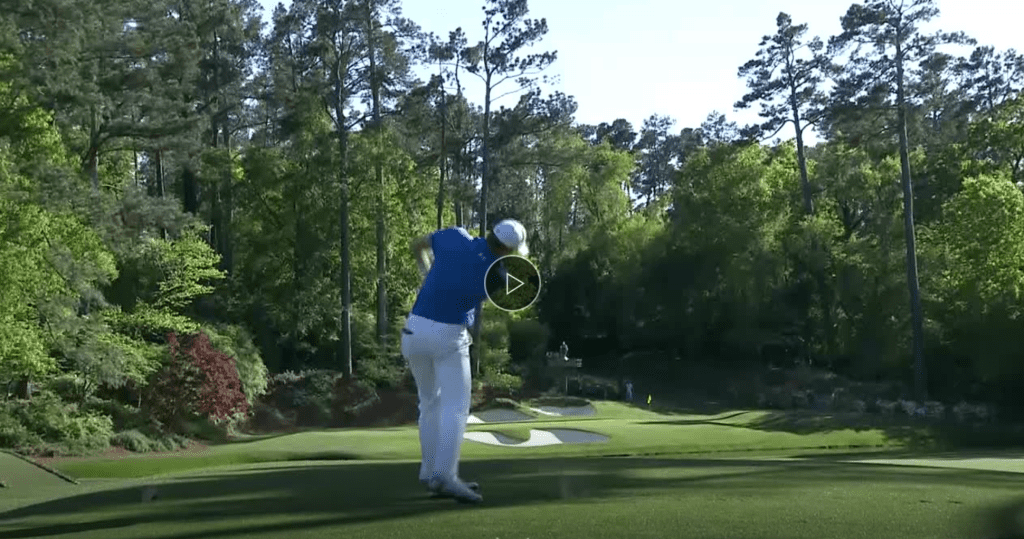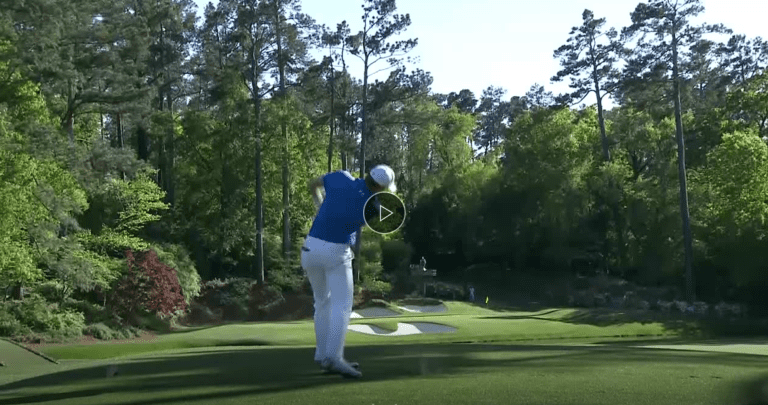 Watch the 12th hole disaster unfold:
Willet – focussed on "just hitting shots"
Willet had just finished playing the 15th hole which he had been expected to birdie but had managed just a par. He took some time out by nipping to the toilet (contrast this with Spieth on the tee at the 12th).  He heard gasps of disbelief from the crowd as Spieth's 12th hole shot tally was reflected in the change on the scoreboard. "You are leading the Masters" someone said to him!  
As he knew he was leading did he change his approach? No. He immediately birdied the 16th hole, another tricky par three over water. He did what he had been doing all day. He weighed up the shot, took aim and fired. He was still "focussed on just hitting shots". Nothing had changed for him in his mental approach. Two thoughts. What have I got? What do I want? Simple and effective.  
I was watching him carefully over the last two holes. He was following the usual routines, making notes in his book before and after every shot. Keeping his focus on the job at hand and making sure that his only focus, his only thoughts were on what was going to produce the best result for his next shot. 
On the 17th hole he hit a beautiful chip downhill from the back of the green to leave his ball no more than two feet from the hole. No "nerves" in that one. He got his par.  Focussed on one shot at a time. 
He made notes, talked with his caddie and hit two perfect shots on the 18th hole to make the green. I was thinking "Why is he making notes? He's going to win the Masters, he will not need the notes!!!"  He knew what he was doing. Follow the old routine. Keep the mind quiet, focussed. 
The danger was over for him. Job done. Thoughts of winning must have crept in as he was walking up towards the green. He nearly made a mess of his first putt. It was tentative. It was a slightly jerky action. He had tensed up but it was good enough. He finished with a par and lead the Masters by three shots – better than good enough. 
Spieth – Overwhelm and confusion
Having taken seven shots on the 12th and having thrown away the lead it was a surprise to some that Spieth was able to birdie two of the next three holes. It wasn't a surprise to me. The unique and intense pressure of leading the Masters had gone. He was now the hunter rather than the hunted. Expectation had been reversed – behind expectation is fear. Fear is a hugely negative emotion and this had been removed. 
Thoughts that were previously congesting his mind and leaving him overwhelmed were still there however and he didn't perform to his usual standard in the closing holes. Telltale signs of this were: 
You could see him nearly trip over his feet after picking his ball up on one hole. Would he normally do this? No.

Later when he handed Willet his winners green jacket (as was his duty being the previous years winner) he again nearly fell over. Would he normally do this? No. 
The fallout
The specific sequence of events that transpired during this final round of the Masters will repeat again at some stage in the future. Someone will lead by several shots and throw away the lead. It has happened before (think Greg Norman and Nick Faldo) and it will happen again.
My bet is that it will not happen again to Spieth, he will leave nothing to chance. He will work with a coach to rehearse and prepare for this and he will lead and win again from the front.
Coaching Solutions
This is an extreme example of a type of event that occurs all the time in life, to all of us.
You may recognise this type of mind confusion and resultant behaviour in some situations that you have been in throughout your life. Pressure situations, fear inducing situations.
A common event that people can relate to is for example when they are giving an important speech or a presentation. They lose track of their thoughts, they become confused and overwhelmed, they become clumsy, tripping up steps to the stage or stuttering in their speech and mumbling.
People often describe it as self-sabotage. They know that they are causing their own problems in some way, only they can't seem to do anything about it. Dr Steve Peters refers to this inner saboteur in his book, the Chimp Paradox and I discuss it also in my own book, Mind Management & Mindfulness.
Both Spieth and Willet mention the word "focus", looking at it from two very different perspectives. Willet was focussed. Spieth wasn't focussed, couldn't focus. It wasn't that Willet could see the ball clearly and Spieth couldn't. It had nothing to do with their eyesight, they are describing their state of mind. Focussed in this sense means seeing things clearly, it means clarity of thoughts.
When there are lots of external factors at play and you put the negative emotion of fear into the equation then the mind becomes jumbled and we suffer a lack of focus.
There are solutions that we can all learn and employ to overcome and prepare for this type of event. The good news is that we don't have to have experienced past disaster to prevent it from happening in the future. There are some specific mental techniques that we can use to rehearse for situations like this and to deploy in the moment of them occurring (we teach these methods to our NLP trainers for use in trainings and presentations and to our coaching clients for use in their various specialist fields). These techniques neutralise the effects of the fear and overwhelm and bring about clarity of focus, leaving us free to concentrate on the immediate challenges and finding answers for the questions "What do I have? What do I want?"
Once again – Well done Danny.